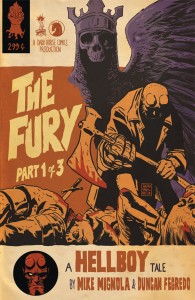 GCB are massive Hellboy fans, John Paul and Joe in particular, Will likes him too… Just not as much as he should. It is for that reason we were incredibly excited about sucking some time from the current Hellboy artist, Duncan Fegredo, to ask some questions about his work and the upcoming story arc The Fury… Because it looks bloody brilliant. Enjoy!
Good Comic Books | How did you originally come to work on Hellboy with Mike Mignola?

Duncan Fegredo | Scott Allie emailed me in November of 2005, the email just asked "is it a good time to talk?" We'd talked about a bunch of stuff in the past that had come to nothing, oddly enough that included a Lobster Johnson series. Anyway, Scott duly calls a few minutes after I respond and asks if I'd like to draw Hellboy. It was that simple. Except I was already drawing a book for Vertigo, and Dark Horse wanted a big commitment from me… I think it came down to, if I couldn't do the first series they wanted me to commit to the second and third. I didn't like the idea of somebody coming in before me so that meant committing to all of it and on top of that, I had to extricate myself from the Vertigo book. I felt bad as I really didn't want to piss anybody off…. but it was HELLBOY! I think all wounds have healed now, I hope so.

GCB | What is it like working with him? Does he have specific guidelines that you work with to draw Hellboy and the wider universe? How does it work?
Duncan | I get a script, read it, Mike calls and we talk through the beats. I draw layouts, send them to Mike and Scott, I get notes back suggesting/requesting tweaks. All the reference points either already exist in Mike's work or he may send reference. Other times I'll do sketches from his descriptions, and we send them back and forth. If I'm not getting it then Mike will often do sketches as well. That happens on page layouts at times, Mike is a writer who scripts in images and sometimes I can tell he has a very specific layout in mind that words don't quite convey. We may go back and forth several times until a solution is reached, if that doesn't work Mike will do a thumbnail. What's nice is that Mike's solution will take on board stuff I've contributed, best of both worlds.



GCB | Like Rocky Balboa trains for a fight, do you have a workout to keep your drawing muscles strong and stuff? If not, John Paul wants you to make one for him…

Duncan | I used to draw in my sketchbook first thing each day, silly nonsensical stuff. I'd sketch whilst lounging in front of the television as well, I think all that used to help. Now, not so much, which is a shame, I need to get back to it. I always recommend drawing in coffee shops, quick studies of random people doing random things. It's the sort of thing that helps populate the backgrounds of comics, learn a vocabulary of normal gestures that can ground your artwork in reality.
GCB | Hellboy in the little blue hire car in The Storm is my favourite Hellboy moment, is it a challenge to capture those subtle moments and expressions that you do so brilliantly? Or does it come as naturally as having him punch something monstrous in the face?
Duncan | I guess I just answered this one, I actually find those little moments easier than the big stuff! I suppose a lot of the work I did in the past for Vertigo inform these soap opera moments. I remember that Mike's one concern about that scene was that I didn't play up the humour of Hellboy being too big for the car, to keep it natural. Not easy for a big red guy with horns and a tail!
GCB | Just exactly how furious will The Fury be? Is it as monumentous as we've come to imagine? Can you tell us as much as possible without spoiling anything?
Duncan | Big fury. I really don't want to say any more, comics and movies are ruined before we ever see them, I won't be the one to ruin this one! I will say I just received the colours for the last issue from Dave Stewart, it's just fantastic. Bearing in mind I drew it and knew what was coming, I still found myself being surprised, blown away with the difference. Normally I just wince when I look at my work, Dave saves me from that, has done so many times previously come to think! I'll leave it at that.

GCB | What's the deal with those weird aliens that have been hinted at since Hellboy started, will we ever find out more about them?
Duncan | Not a clue, you'll have to ask Mike.
GCB | Now red's re-joining the B.P.R.D, will there still be seperate series, or will they all be thrown together in one?

Duncan | I believe that's still in discussion, plans for both.

GCB | What can we expect from Hellboy after the conclusion of The Fury, will you still be working on it?
We can look forward to Mike's art on the main storyline, so like Richard Corben I'll be doing one-shot Hellboy books, we've discussed a few possibilities already. I'll also be doing some covers.
GCB | Does that free up a significant amount of time for you? Can we expect you to fill it up on anything in particular?
Duncan | Although I'll be doing one shots, we're talking about 50 or so pages each, so whilst the pressure will be off regarding schedules, I still need to work! So it's more a case of restructuring my time than free time. It does allow me to slot in covers and a bit of painting time too, I hope. Maybe a little more Halo online, I don't get my ass kicked often enough!
GCB | That's gold! We might get a bunch of requests for your gamertag, if you're as awful as me then that'd definitely be news! Do you have any solo projects in the pipeline?
Duncan | Not as yet, but it's a possibility down the line.
GCB | So, here's a stock question… What or who, has had the biggest influence on your art? And what inspired you to pursue a career in comics in the first place?
I always wanted to be an artist, it started with Disney when I was about 6/7, then Marvel books when they were published as Power comics before the launch of Mighty World of Marvel in 1974, I was 10 then. Then all the outrageous stuff in 2000AD, amazing art. Star Wars was the icing on the cake, I was obsessed with that film for years. I'm not naming artists as there are so many and I know I'll miss people. It all had and continues to have an effect on me, I'm moved by art and movies and I have a desire to make work that similarly moves the reader.
GCB | And another… What comics are you reading / would recommend (if any) at the moment?
Duncan | I don't actually read so much stuff so I'm sure I'm missing loads… Well, all the Hellboy offshoots, obviously. BPRD is a great book, I adored Guy Davis's work and he'll be sorely missed. I'm sure Tyler Crook will do a grand job though. I loved Joe The Barbarian, Grant's story was a lot of fun and Sean Murphy's art was astonishingly good, I was driven to send fan mail! What else? I really enjoy David Peterson's Mouse Guard, in fact I did a pinup for his Tales of the Black Axe, that was a lot of fun to do. Criminal by Ed Brubaker and Sean Phillips, I've known Sean as long as I've been drawing comics and he'd be annoyed if he didn't get a mention! But I'd mention Criminal anyway, great stories and some of Sean's best work ever. I'm still enjoying Walking Dead although I'm way behind as Charlie will point out… I'm afraid to read it as I know my favourite characters are all moments away from gruesome ends, and Charlie is all too happy to make there ends as bad as he can, good work there Adlard! I'm sure I'm missing stuff but I'll end with Roger Lagridge and Chris Samnees run on Thor, so much fun to read and a joy to look at. Cut down in it's prime.
GCB | Thanks! That was sch-WEET.
Go buy The Fury! It looks awesome sauce.
Interview | Scott Snyder & Scott Tuft
The Good Comic Books Podcast #2
Witchfinder: Lost & Gone Forever #1
What To Make Of Ben Affleck As Batman
Review | The Adventures of Tintin
News | The Avengers Trailer
News | 3rd International Tintin Trailer
News | Green Lantern Blu-Ray/DVD Release Details
Classics | All Star Superman