An open letter to the readers of Good Comic Books…
We have heard that Simon Moreton and Nick Soucek, the creators of Smoo and Misinterpreted Complications, have a new project. It seems that these two artists/writers/show offs have collected together specially commissioned works from the very best underground, alternative and small-press storytellers, in a new anthology.
The Sorry Entertainer is a high quality, tabloid-sized newspaper, with comics by artists from all over the world; spinning yarns of sad theatre performers and blackmailed entertainers, Plane crashes, wrestling matches gone wrong, flatulent stand-ups, persecuted human statues and four eyed-wonders… which sounds cool right?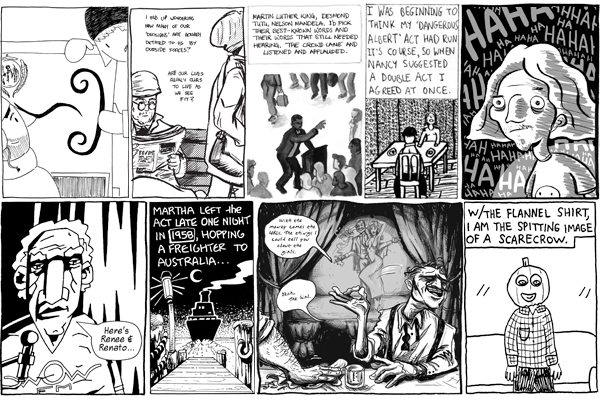 You can get a piece of this comics pie early. To raise money for getting the paper out on the streets, they're offering certain perks for early contributions! Depending on how much you cough up, from £5 up, you can get:
Copies of The Sorry Entertainer
Your name in print, thanking you as a backer of the project
Comics from the contributors
SIGNED original artwork
There's an incredible amount of talent going to work over this paper, and it'll be ace when it comes out. Especially if you yourself had a hand in making it happen. Click HERE to make a contribution, and get it when it comes out!
Here's a little taste of Simon M's Smoo, and why you should probably be excited about The Sorry Entertainer…
Congratulations, you've found the hidden message