The Comix Reader, if you didn't already know, is a newspaper style comics anthology featuring some of the very best creators of alternative comics, in "an attempt to recapture some of the free spirit of the underground press".
I chanced upon the first issue in one of the major comics shops in London and loved how old school it was, the diversity of the content was incredible and utterly compelling, and for £1 you can't really go wrong. This Wednesday there will be a MEGA launch party for the Comix Reader #2, and YOU'RE INVITED.
As well as The Comix Reader, there will be two more comics launching on the very same night including The Black Project by Gareth Brookes (of Sherlock Holmes vs Skeletor fame) and Static Revolver #2 by Comix Reader cover artist Lord Hurk and Comix Reader contributor Kevin Ward.
So basically, there's gonna be a whole bunch of incredibly talented people with a whole bunch of awesome comics, and you should probably come help us celebrate some awesome work! Click HERE for the facebook event, and then invite your mum along.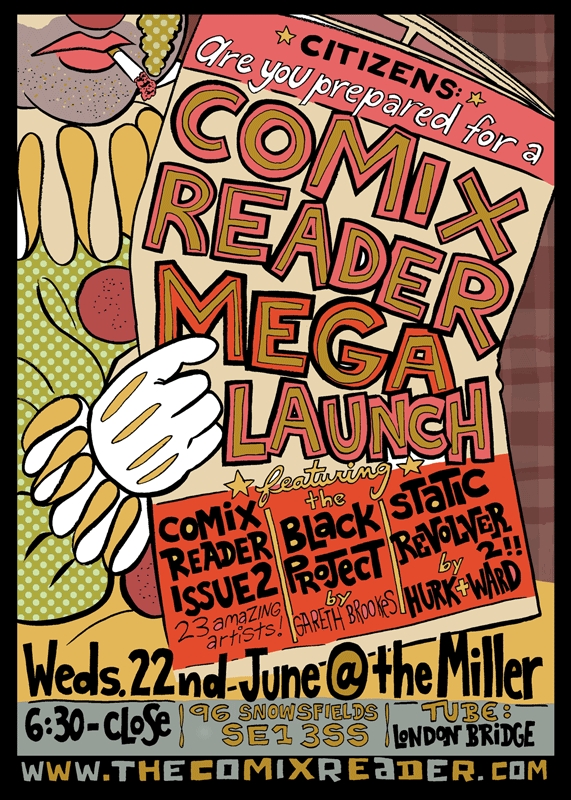 The London Comic and Small Press Expo
Paul Cornell and Paul Rainey Speak!
Review | Castro – A Graphic Biography
Interview | Marc Ellerby of Chloe Noonan Fame
The Good Comic Books Podcast #5
Introducing The Sorry Entertainer!