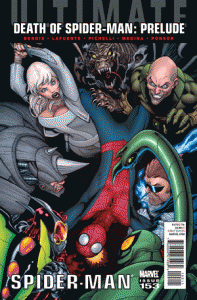 We continue following the Death of Spiderman event with a review of the prelude; Ultimate Spiderman #153.
I have always had a huge fondness for the Ultimate Spiderman series. The idea of taking the character back to his roots as a teenager made him the best possible candidate for a 'reboot' and Brian Michael Bendis has done great things with it. His writing has remained funny and fresh for over one hundred issues. In that time he has found new and exciting approaches to old characters and storylines while maintaining snappy banter and believable drama. He even withstood the onslaught of the infamous ULTIMATUM (The convenient 'event' that killed off half of the Ultimate universe) and guess what? He used it to make the series even better!
So why on earth did this issue disappoint me so much? It isn't that the issue is poorly written or drawn. It's more that after such a sustained run of greatness Bendis turns in such a tired, average chapter. The problem I have with it is the Zodiac key. It's basically a magic artifact that grants wishes. Objects like this have been seen a million times in comic books and for that reason I found it hard to take most of the issue seriously. Now I'm willing to go along with mostly any far-fetched concept you can imagine providing someone makes an effort with it. However Bendis expects the reader to automatically accept the mysterious power of the key because we know it's from Egypt and the villain wants it. I'm not sure if I can call it a deus ex machina because I have no idea how big a part it will play in The Death of Spiderman. All I do know is that it looks and sounds like a lazy idea from a Tomb Raider film.
But the issue wasn't entirely about the prop. I love that Spiderman has been made to undergo super hero training because he's been considered a public hazard. It's a clever development for a character of that age to be put through and the insecurity he exhibits with Iron Man here is very convincing. The artwork is light when it needs to be but helps to create an appropriately ominous atmosphere for the coming storyline.
I really hope that Bendis has some tricks up his sleeve and he's saving them for when The Death of Spiderman takes off. I accept that this is a prelude and only providing a setup for events so I'm holding back my judgment for now.
Joe Read.
Death of Spiderman | Part 14
Death of Spiderman | Part 13
Death of Spiderman | Part 12: The End
Death of Spiderman | Part 10
Death of Spiderman | Part 9
Death of Spiderman | Part 8
Death of Spiderman | Part 7
Death of Spiderman | Part 11
Death of Spiderman | Part 6
Death of Spiderman Part 4 | Prelude Concludes