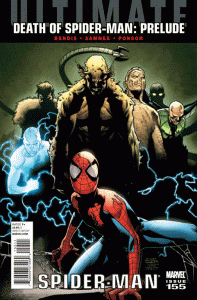 Ultimate Spider-Man #155
The words 'too good to be true' seem very fitting for this issue. In the chaotic storm that is Peter Parker's life this day seems unbelievably fortuitous. Don't get me wrong, after all the hardships that he has endured of late it is merciful of Bendis to grant him some peace. It's only in how much he has that the story falters. The sudden mending or advancing of his relationships seems shoehorned here and makes Peter look a little like Scott Pilgrim with his shamelessly quick change of girlfriend.
I know everybody loves the classic image of J Jonah Jameson, perpetually ranting and raving against our hero. If you look at the latest Amazing Spider-Man you may find him doing just that*. The Ultimate incarnation is not the same man and all the better for it. There are elements of the original in his look and manner but recently there has been a significant shift and he is developing in a way nobody expected. In particular, his relationship with Peter Parker takes a twist in this issue that will certainly have huge consequences. We're all aware that there are storm clouds on the horizon.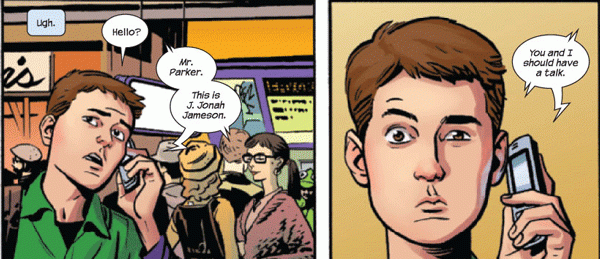 The art of Chris Samnee was brilliantly suited to the slow pace of the issue. He allows the small moments of drama to drive the story in an understated way that reminded me of Guy Davis' work on Unstable Molecules. An unfortunate result is that the one action scene in the whole book feels very out of place and a little jarring. I thoroughly enjoyed his work here but cannot wait for the return of Mark Bagley next issue.
* I have tried to get into Amazing Spider-Man. Unfortunately the latest stuff by Dan Slott has done absolutely nothing for me. But this article was not designed to slag it off. If you want a dazzling appraisal of BIG TIME then please consult Mr. Innes on your way out.
Joe Read.