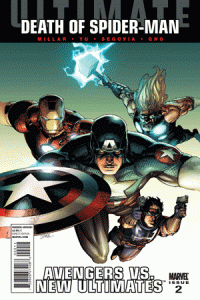 Ultimate Avengers vs. New Ultimates #2
Well color me disappointed. After the last issue seemed to promise a step in a new direction, we get one consisting of nothing but a big punch up. Perhaps I'm becoming increasingly frustrated in my waiting for the Death of Spiderman storyline to pick up momentum but it seems a shame to string the reader along without good enough cause.
I understand how the first two issues now mirror each other and I appreciate the twists at the climax of each. Mission accomplished. My problem here is the way Mark Millar chooses to drag out the use of that device by focusing on the unlikable members of his Black-Ops team that haven't been fleshed out in the previous volumes. So what we get are a few pages of Nick Fury as he once again 'puts a team of Bad-Asses together' and then a big fight that reintroduces another badass. Apparently the word 'badass' is a substitute for the word 'dickhead'. Whatever the case, we're supposed to be so dazzled by all the badassery that we forget how much the last issue gave us and how little we're given this time. The artwork by Lenil Yu and Stephen Segovia is the only redeeming feature for me but even this starts to look stale by the end.

This is Millar at his worst: a loud, shallow, clichéd display of action full of exposition-heavy dialogue. If I were writing his school report it would say, 'Mark can do better if he would only apply himself.'
Joe Read.
Death of Spiderman | Part 13
Death of Spiderman | Part 7
Ultimate Death of Ultimate Spiderman Part 1
Death of Spiderman | Part 14
Death of Spiderman | Part 12: The End
Death of Spiderman | Part 11
Death of Spiderman | Part 10
Death of Spiderman | Part 9
Death of Spiderman | Part 8