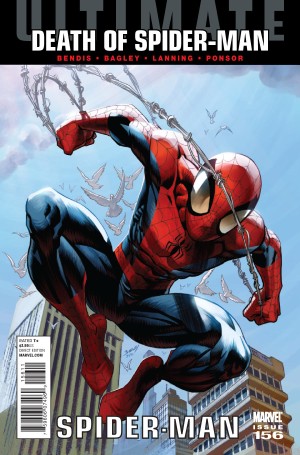 Ultimate Spiderman 156

So after a lot of teasing and build up, the Death of Spiderman storyline finally takes off. I admit that the bulk of the action in this issue is unsurprising: a major villain has returned from the dead (NO!), escaped from S.H.I.E.L.D custody (NEVER!), and wants to kill Peter Parker (INCONCEIVABLE!). Luckily the speed at which this all unfolds indicates that a lot more unpleasantness will take place before this is over. Bendis wisely keeps his cards close to his chest, dropping only hints of the danger around the corner.
Peter's superhero training also continues this month with Captain America taking the reigns. It's moments like the one shared by those two here that help distinguish the characters of the Ultimate universe from their original versions. Rather than portray Ultimate Cap as the violent xenophobe other writers have, Bendis gives us a stern military man from a different time and one less tolerant of Spidey's immaturity. It's a relationship that I don't think has ever been strained on Earth 616.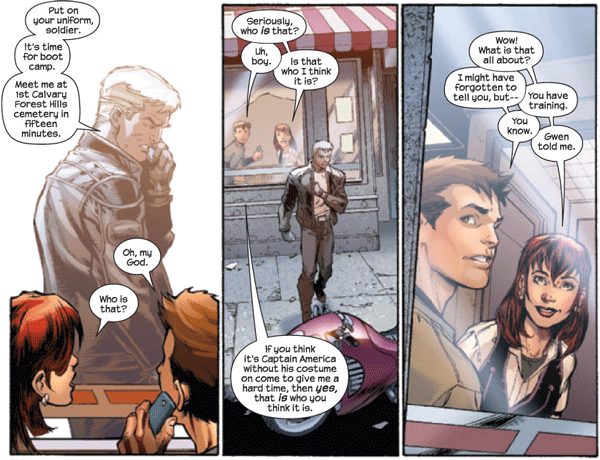 The return of Mark Bagley has certainly evoked a sense of nostalgia, taking me back to my comic reading days of the early twenty hundreds (I refuse to use the N word). It provides a great connection to the history of the title and adds to the gravity of coming events. Bagley's art is, as always, perfectly suited to the frantic action of any good Spiderman story but he also delivers some icy moments of small-scale drama.
We're heading for something, somewhere I've never been, sometimes I am frightened but I'm ready to read more about The Death of Spiderman.
Joe Read.
Death of Spiderman | Part 14
Death of Spiderman | Part 13
Death of Spiderman | Part 12: The End
Death of Spiderman | Part 11
Death of Spiderman | Part 10
Death of Spiderman | Part 8
Death of Spiderman Part 4 | Prelude Concludes
Death of Spiderman | Part 9
Death of Spiderman | Part 7