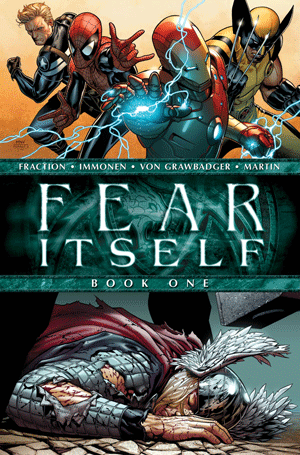 I don't know about you, but if I had a father like Odin I think I'd be inclined to fight him all the time too. Fear Itself kicked off today in incredibly subtle style. I always expect these things to blow up and turn into a massive fight immediately (like Civil War?). Instead, Fear Itself begins with a domestic between Thor and his angry one eyed dad, and it was really good.
Matt Fraction is writing a comic blockbuster with movie blockbusters in mind, but it's still great to read. With the release of Thor at the end of the month it's apparent that fleshing out the father/son relationship between the two Asgardians is something that the film also shares (if the trailers are anything to go by). It sets up the series for old and new audiences alike, though Steve Rogers had much less of a role in this book, but I can imagine as the film release gets closer, he'll step up to the wicket (or 'the plate' for all you yanks). Especially as he isn't Captain America at the moment… OOOO, maybe he'll start Captain America Incorporated!!
Immonen's art is a safe bet. It does exactly as its told and doesn't take any chances, while its impossible to fault something merely for being safe (as safe is still good right?) I do like things to be a little more interesting. I want my dragons to be unlike anyone else's dragons, I want my panels to show more movement than just up and down, and left to right… Who am I kidding though? This is a mainstream comic mega-event. They're not going to do anything to put people off if they can help it, and it still looks great, I'm just in a picky mood.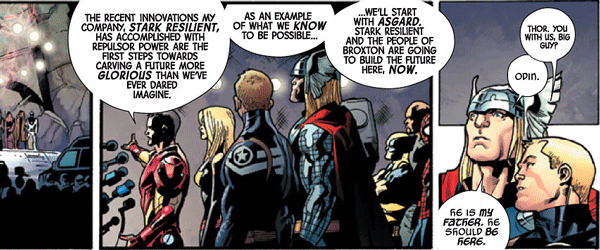 There was a worry amongst some, that Fear Itself would be the premature end of The Heroic Age, something many people welcomed after some dark days in Marvel comics. It's safe to say though, that even with the real world issues Fear Itself touches upon, heroes do still seem to be heroes, and the tone does still seem to be light, and Fear Itself is still perfect escapism. At the heart of it, there is a villain whom is being awakened who will surely endanger the world. Who do you think might try and stop this villain if not for heroes? This was a great start to what promises to be a great read. One that I hope won't ask me to spend ALL of my money, but may offer me more depth where I want it. You shouldn't fear Fear Itself… because it looks quite good.
Joe Innes.