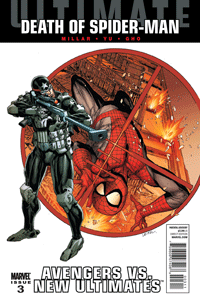 Ultimate Avengers vs. New Ultimates #3

Do you remember the 'big super hero war' going on in the background of Ultimate Spiderman #156? This issue gives us an inside view of that particular skirmish and things get ugly. The fight that we have been promised literally appears out of thin air and Mark Millar wastes no time in taking the scrap out into the open with as many bullets and as much public destruction as possible.
The injection of humour in this chapter makes it a big improvement on the last. Millar's 'Balls to the Wall' style works best when satirizing the kind of Michael Bay blockbusters it appears to imitate. If he forgets to put that tongue in cheek then we get what happened in issue 2. The ridiculously rapid pace of the action here completely disregards any cloak and dagger subtlety that could be explored in the mystery of who the traitor is. However rather than being a hindrance this element helps drive the story towards a brilliant twist, which I will not spoil here.
My gripes with this one are not huge. The jokes about Tony Stark's alcoholism had worn thin after the first six issues of the Ultimates but Millar insists on flogging that dead horse. It's a shame to see it after writers like Warren Ellis have proven the character can be developed in interesting ways and not just sidelined for comic relief. While we're on the subject, why does the Iron Man armour now look just like it does in the movies? It should be the other way around! Then again how can I expect common sense in a comic where Captain Britain and the director of S.H.I.E.L.D. are gushing over David Cameron?

For more on the shocking ending of this issue, stay tuned for my review of Ultimate Spiderman #157, coming soon!
Joe Read.
Death of Spiderman | Part 13
Death of Spiderman | Part 14
Death of Spiderman | Part 9
Death of Spiderman | Part 8
Ultimate Death of Ultimate Spiderman Part 1
Preview | Ultimate Comics Ultimates #1
Death of Spiderman | Part 12: The End
Death of Spiderman | Part 10
Death of Spiderman Part 2: The Prelude
News | The Avengers Trailer