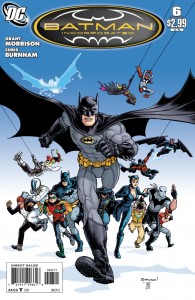 Back when Batman Incorporated was announced it was heralded as Grant Morrison leaving behind the lost in time thing that had people scratching their heads until bleeding, and replacing it with Batman romping around the globe and having a gay ole' time. It started off really well, but somewhere since then started to fall back into a twisty, turny thing…. Sure, Bruce did the tango, but I still have no clue why. Luckily, this is the issue I've been waiting for, and it was the best Batman Inc since Batman Inc began, and I'll tell you why.
Have you ever seen The Three Amigos? If you have then you'll know how they foil a gang of Mexican dicks by dressing a whole town up in their costumes (they're the cowboy equivalent of the Justice League) and thereby freak out the Mexican dicks because they seem to be 'everywhere'. If you haven't seen that movie, I suggest you do as it's incredibly funny. What was my point? Oh yeah, Bruce Wayne goes about dressing up all these jerks as Batmen so as to freak out all the criminals of the world by the fact that he's 'everywhere'. It's the same right? Anyway, this issue makes you feel like Bruce really does have something up his sleeve to fight the criminal element, which a Batman comic always should. He even visits a chatroom to throw people off the scent that he's Batman, which is a nice little nod to us as an audience, I assume Grant Morrison just assumes I spend all my time thinking up conspiracy theories and predicting the plot details of current TV shows…

Grant Morrison actually seems to be making progress with the series, I can actually start looking forward to discovering things that I haven't been told yet… Which is nice. It's got creepy, brain washed kids, a villain making all sorts of outlandish but incredibly vague plans, and Bruce Wayne is stepping up his skills at appearing increasingly more unhinged in public. He looks well crazy.

Chris Burnham, who recently signed on to be a DC exclusive artist, draws really nice pictures of all sorts. I probably would've been well jealous of him at school. His style is in the same swimming pool as Frank Quitely, so for anyone who's read All Star Superman (which is probably most of you) that will be sweet, sweet news. Unless you thought All Star Superman sucked, in which case you exist in the Flashpoint universe.
So, in closing; Batman Inc #6 was really good, and if you wanted to jump on to it, I suggest you do it with this issue. Because you might not get another chance…
Joe Innes.