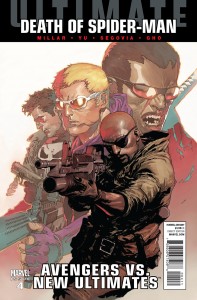 Ultimate Avengers vs. New Ultimates #4
Let me make it clear: I do not enjoy writing bad reviews. This site is dedicated to good comic books and if we can't find anything nice to say, we won't say anything at all. However I have committed to covering the Death of Spiderman and I mean to stick it out until the bitter end.
So previously the Ultimate Avengers were having a big fight with the New Ultimates when Spiderman jumped out of nowhere and took a bullet for Captain America. The timing of that moment was brilliant and the possibilities for where the story could go were numerous and tantalizing. That is why I had to read this installment twice in a row and then pinch myself, because that potential has been completely squandered.
The real-time technique that's being used to dramatic effect in Ultimate Spiderman right now is abandoned half way through this issue and makes the tie-in of these two titles seem pointless. Something like this might not even matter if the heroes weren't even more unlikeable than usual. A badly wounded Spidey disappears in the middle of the fighting and none of the Ultimates seem to care? No, they're all sitting around back at Tony Stark's penthouse (cue Seinfeld theme) and he barely gets a mention.
By the end its clear that Mark Millar is once again going through the motions. The reveal of the villain in the last few pages felt too familiar to be surprising and any impact intended for the shocking last minute 'death' is spoilt if you're able to turn the page and see the cover for the next issue.
The best thing I can say is that this chapter reveals how everyone's favorite wall-crawler gets from Ultimate Spiderman #157 to #158. Otherwise I recommend that you skip it and read them instead.
Joe Read.
Death of Spiderman | Part 13
Death of Spiderman | Part 7
Death of Spiderman | Part 14
Death of Spiderman Part 2: The Prelude
Death of Spiderman | Part 12: The End
Death of Spiderman | Part 11
Death of Spiderman | Part 10
Death of Spiderman | Part 8
Death of Spiderman | Part 6
Death of Spiderman Part 4 | Prelude Concludes