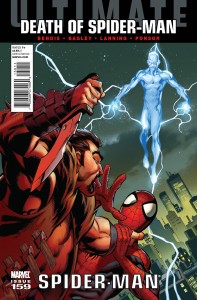 Ultimate Spiderman #159

It was exciting, messy and over far too quickly. Get your mind out of the gutter because I am referring to the latest installment in The Death of Spiderman saga.
The fact that this issue revolved around a big fight scene did mean that it flew by in an instant on my first reading but there is more than enough to savor in this outing. After some sporadic action throughout this storyline Mr. Mark Bagley throws in his most kinetic and electrifying work since his return. The pages snap, crackle and pop with the super-powered violence our hero battles and really makes you wonder at the amount of punishment one radioactive teenager can endure.
Those little boxes of Peter's inner thoughts have never shone through so humbly and with such vulnerability as they do at times here. It just wouldn't be Spiderman if he weren't still cracking wise in the face of impending death and those quips still made me smile though my heart was breaking. Watch out for a nicely timed almost DC reference.
I am avoiding spoilers in this review so I won't go into detail on what Gwen Stacey describes as 'the very definition of awesome' but suffice to say that it couldn't happen to a nicer chap. The moment almost takes a strange pride in establishing an already hardened character as the next Dirty Harry. One might question if they would be as quick to do what they do if they knew what the Punisher had done to Peter but these are desperate times in all the confusion I somehow doubt it.
The final reveal is an infuriating 'Oh for crying out loud…' cliffhanger but it certainly didn't damper by appetite for the end of the end. I know we're all very anxious to see what Brian Michael Bendis has got for us in his polybag of tricks.
Joe Read.
Death of Spiderman | Part 12: The End
Death of Spiderman | Part 10
Death of Spiderman | Part 8
Death of Spiderman | Part 14
Death of Spiderman | Part 13
Death of Spiderman | Part 6
Death of Spiderman Part 4 | Prelude Concludes
Death of Spiderman | Part 9
Death of Spiderman | Part 7