Ultimate Spiderman #160
And now the end is near and so I face the final curtain. As I write this I look up at my canvas print of the Amazing Spiderman #40 with a muscular Spidey standing over the Green Goblin beside the caption, "SPIDEY SAVES THE DAY!" I can't help but notice the ironic parallels between that classic cover and this finale as we join our hero taking a final stand against his arch nemesis to protect his friends and family.
If you tore open your super secret polybag expecting to find a huge spectacle or some shocking twist then no doubt you will finish this issue feeling disappointed. However if you have any love for Spiderman, Ultimate or otherwise, then you may agree with me that this is a damn fine ending to a stellar series.
To avoid spoilers please look away now…
I'll admit that I'd begun to accept the title of this storyline as some kind of macabre red herring. But as the issue drew to a close I felt like a bit of a fool. All this time I spent second-guessing them and they get me with the old double bluff. I believe I was in so much shock that I couldn't take in the magnitude of this event.
Peter Parker, the Ultimate Spiderman is dead. Bereft of life he rests in peace. Now I know that superheroes die all the time these days so it really is a rarity to read one with this much dramatic weight to it. It would be very difficult to undo the impact of this story with any quick-fix resurrection that might be around the corner. And that certainly shouldn't be a priority for Marvel because what they have is that rare example of a hero's journey coming full circle. We can see just how much he has grown in these last moments and with his last words he seems to find a sense of closure that few of us could expect.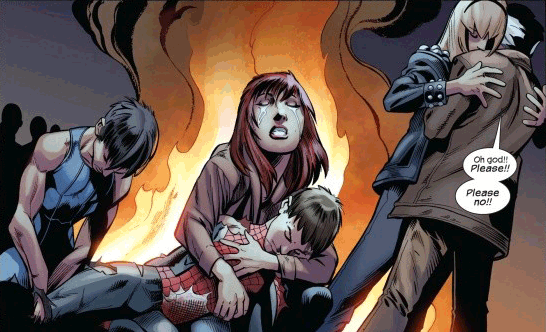 One of Mark Bagley's greatest strengths is that he can put as much manic energy into his action scenes as his smaller character interaction. While the conflict almost approaches Tom and Jerry levels of violence, the sight of Mary Jane hitting the Green Goblin with a truck lifted my spirits. In spite of all the blood and fire, it was Aunt May's hysterical reaction to the death of her nephew that really sold that pivotal moment to me.
So Brian Michael Bendis tops off his record-breaking run and he has every right to be proud. While edgier writers like Garth Ennis and Mark Miller taunt that the classic superheroes would be psychopaths and dickheads in the real world, Bendis seems to offer Ultimate Spiderman as a mature reply that our favourite wall crawler would not. His is a story of true heroic sacrifice…with webs.
Joe Read.
Death of Spiderman | Part 10
Death of Spiderman | Part 8
Death of Spiderman | Part 14
Death of Spiderman | Part 13
Death of Spiderman | Part 11
Death of Spiderman | Part 7
Death of Spiderman | Part 6
Death of Spiderman Part 4 | Prelude Concludes
Death of Spiderman Part 3: Prelude Continueth
Death of Spiderman Part 2: The Prelude