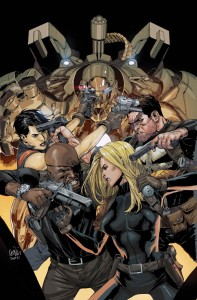 Ultimate Avengers vs. New Ultimates #5
This series has been the definition of hit-and-miss for me. But I'm happy to write that this issue is a fantastic return to form…because it's absolutely ridiculous. It's downright ludicrous and that has to mean something when you read comics about men dressed as bats or silver surfers from space on a weekly basis.
I know I can't judge this as a normal comic book anymore. I can't relate to any of the characters or sympathize with their problems or feel that strongly about the 'issues' that this storyline is dealing with. When it really flies it's an action packed satirical cartoon, cracking jokes and skulls with equal aplomb. My problem is that Mark Millar's first two volumes of the Ultimates did this with heart and brains that made the reader care a little more when the fists weren't flying. Was it Bryan Hitch's epic artwork? Was it the 13-issue format that took time to develop characters and story? It's a mystery.
Now that the secret villain of the series has been laid bare the fights come thick and fast and they are loaded with some startling surprises. Hulk pills! Korean Spiderman! Ultimate Ultimate Team-Up! I was grinning from ear to ear reading this wondering how it could any more absurd. I just hope that the conclusion is big and noisy enough to distract me from its shortcomings.
Joe Read.
Death of Spiderman | Part 14
Death of Spiderman | Part 7
Death of Spiderman | Part 12: The End
Death of Spiderman | Part 10
Death of Spiderman | Part 9
Death of Spiderman | Part 8
Death of Spiderman Part 2: The Prelude
Ultimate Death of Ultimate Spiderman Part 1
Death of Spiderman | Part 11
Death of Spiderman | Part 6