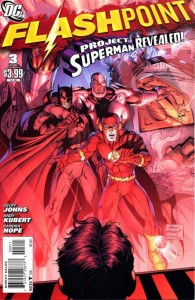 So, I orginally planned to do a Flashpoint vs Fear Itself review, but another site beat me to it. Instead I decided to write a review of whichever I enjoyed best. As you can probably tell from the title of this, Flashpoint did the winning…
Firstly, to get it out of the way, the art isn't pretty. It isn't one of those books you go 'ooh, what a beautiful panel' to, in fact, the images are quite depressing. Everything feels incredibly dark and dreary, like the pages are weighed down by too much ink. If it was down to the art, Fear Itself would've won, but it wasn't… so it didn't.
I guess I'm not much of an Andy Kubert fan, and he certainly hasn't been given time to be able to do his best work. There's a few images that are certainly awesome sauce, but I think it's more down to what happens rather than the aesthetics. Seeing Barry Allen all burnt and messed up, covered in bandages is cool, as is seeing the Flashpoint Superman SPOILER all weak and miserable. Not only has he been cut off from the sun, but it also looks like he's been listening to loads of Morrissey.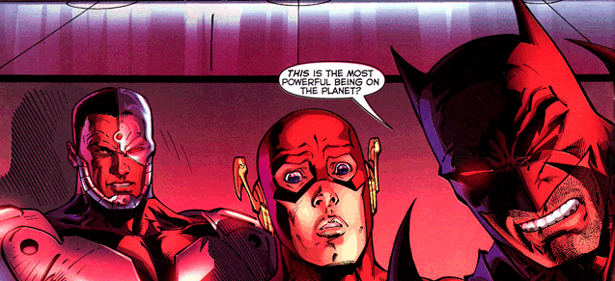 So, cool stuff happens, and I think Flashpoint is beginning to live up to what it promised. Before this issue, a lot of the interesting moments were happening in the tie-ins, leaving the main book as all set up. Now, it seems we're through that and the story has started to kick off, Flash is getting the team together and looking at setting things right. One thing that I really like about Flashpoint is where it could go, because it could do anything. I guess the same could be true for Fear Itself, but I don't think so, not with the knowledge of the DCnU. For all the hype, Fear Itself just seems like the good guys vs the bad guys (not that I haven't been enjoying it, it's just not as interesting).

I guess it comes down to what you want from a story, do you want something familiar or something a bit different? Both these events are really entertaining, and shit's been hitting the fan in both, but in my mind the shittiest fan is located in Flashpoint. Please read this as a positive thing, I realise having a review with a conclusion like 'it's got the shittiest fan' may seem negative, but I'm just trying to mix things up a bit yeah?
Joe Innes.