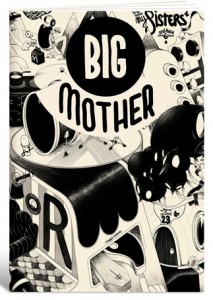 Big Mother #1 is a collection of illustrations/psychadelia by Matthieu Bessudo, otherwise known as McBess. He's a french guy who's not only an incredible illustrator, he's also an animator, and he's in a band called The Dead Pirates (click HERE). You know, he's one of those people who make you sick from how talented they are.
The pictures in this thing are crazy, it's like falling into someone else's head and having a look around. There are certain ideas and themes that are recurring throughout the book that seemingly give a picture of the artist's psyche, including lots of amps, guitars and vampire groupies. The fact the artist is in a band is evident, and he plays around with the desire of rock n' roll excess regardless of the trappings, to quote Fight Club; "We've all been raised on television to believe that one day we'd all be millionaires, and movie gods, and rock stars. But we won't. And we're slowly learning that fact. And we're very, very pissed off." At first glance, some of the images may seem arbitrary, but look hard and you'll find an incredibly clear focus of expression.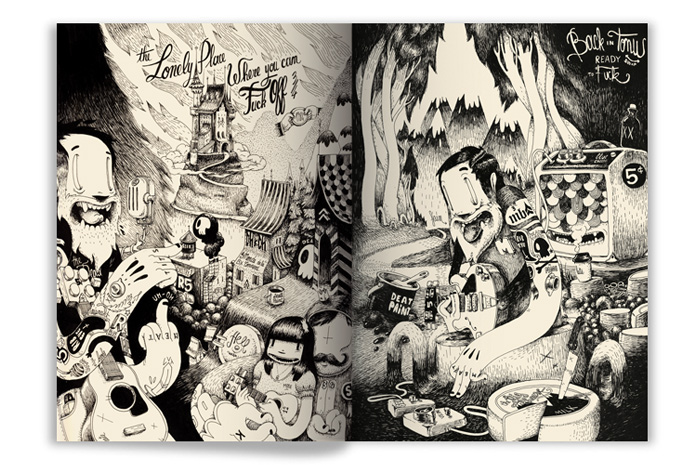 Even though this isn't sequential art, the world of the illustrations is consistent. The characters and landscapes recur like being lost inside a twisted Wonderland, like an adult version of Where's Wally. There's a lot on the page to find, and an incredible amount you don't see at first glance. He plays with optical illusion and paints doubt over everything he puts on the page, so you often can't be completely sure of what you're seeing. There's some text in both English and French, which is often explicit, I had my French flatmate translate some of it… which was interesting.
Big Mother #1 is published by Nobrow, and just like everything else they put out, it smells great. It's an oversized A3 size thing, which was really cool to see. I really feel like when I'm reading the same kind of things over and over I begin to stagnate, and this was some kind of tonic. it's an absolute treat to dip in to, a real experience. Go get it… HERE
Joe Innes
Review | Castro – A Graphic Biography
The Good Comic Books Podcast #5
Review: Sherlock Holmes Vs Skeletor
The Good Comic Books Podcast #7
Advanced Review | The League of Extraordinary Gentlemen:
Interview | Marc Ellerby of Chloe Noonan Fame
The Comix Reader #2 Mega-Launch