At Kapow Con back in April me, John-Paul and Joe Innes all did that great British thing and queued for ages to try and get into screening X, the super secret preview screening of a new superhero movie coming out this year (which we never got into – ED). We all had bets on it being Thor, it turned out we were all wrong; James Gunn's Super had blind-sided us. Rainn Wilson stars as Frank, a diner cook who's wife falls in with and leaves him for Kevin Bacon's evil drug lord, in response to this and with a little inspiration from God (or just those voices in his head) Frank creates a superhero alter ego to take out his frustration on crime and hopefully rescue his wife, he becomes The Crimson Bolt.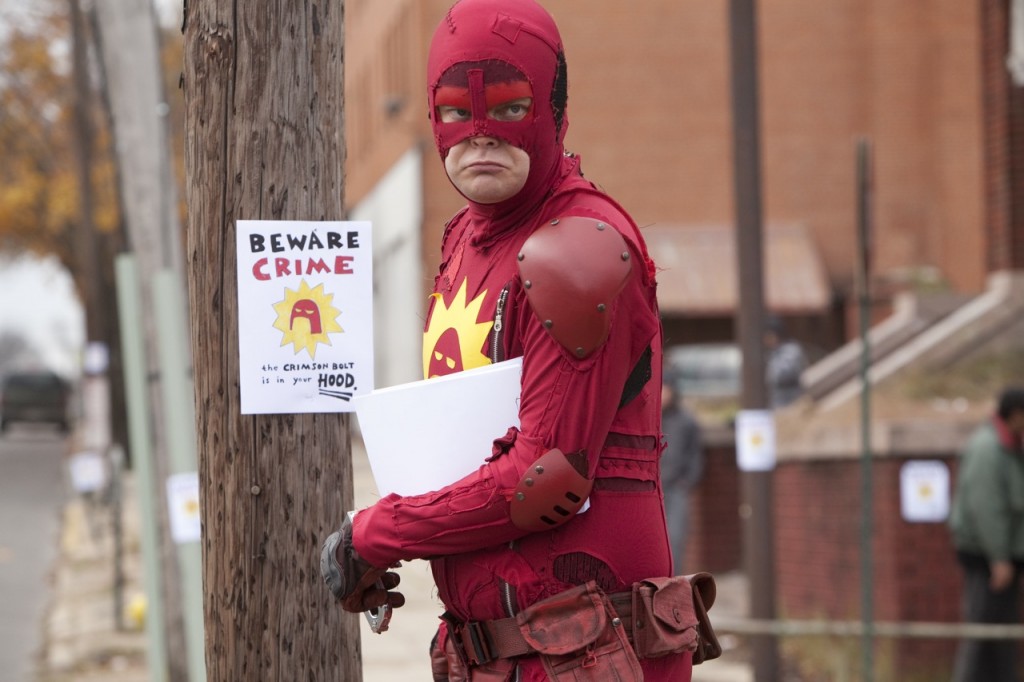 The comparisons between Super and last years Kick-Ass are pretty obvious and have already been explored by a plethora of reviewers, I'm sure Gunn must have been more than a little cheesed off that Miller and Vaughn got there first. The differences between the films though are pretty big, whilst Kick-Ass still embraced the Hollywood aesthetic, Super completely throws it off and bears a much larger resemblance to reality. Gunn cleverly plays with the basic concept of what is right and wrong, and although Frank does everything with the best of intentions there is a huge sense of naivety to the character, and his actions would still mostly be deemed as criminal in the eyes of the law.
This film is proper Indie cinema; I would loosely describe Super as a black comedy, although the black far outweighs the comedy, by like, a metric ton. The film is incredibly violent and quite often I found myself wincing, for instance before hitting the streets Frank researches super heroes without powers and the weapons they use but eventually he just settles on hitting people very hard with a wrench.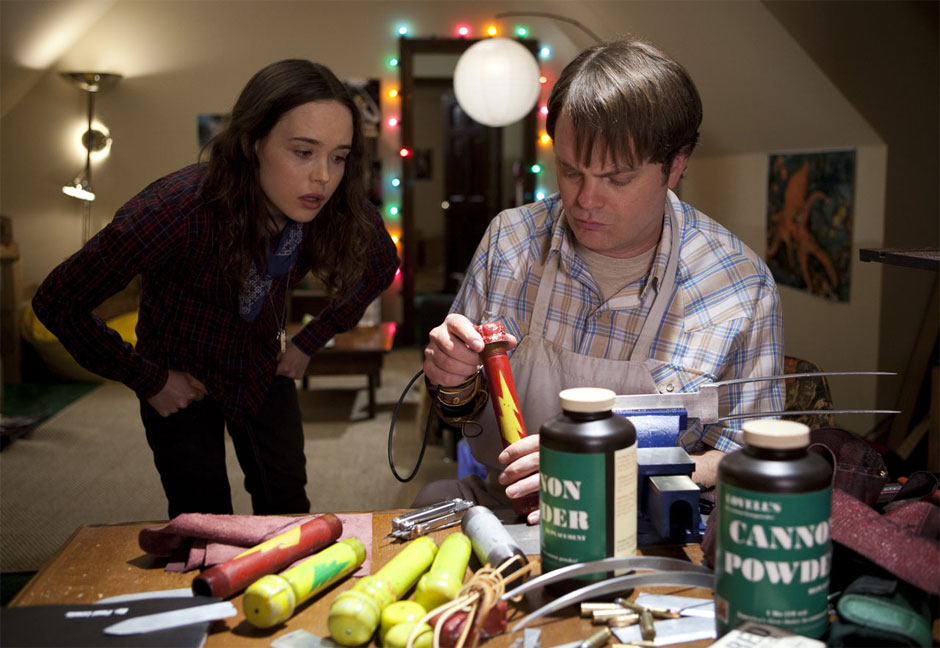 Rainn Wilson really makes this film work, and it's pretty difficult not to feel sympathy for him even as he is seriously hurting people for often trivial reasons. He is funny without ever cracking a joke or changing his facial expression from a resigned melancholy stare, and he really provides an emotional centre for the film. Kevin Bacon is great as the evil drug lord and Ellen Page is a load of fun as The Crimson Bolt's sidekick Boltie, although we do not get to see enough of each.
There's a really touching story in Super, but you just have to get past a huge amount of often-horrific violence to get to it!
Will Pond
Super is available on DVD and Blu-Ray now.
Review | Gainsbourg: A Heroic Life
The Good Comic Books Podcast #5
Review | The Extraordinary Adventures of Adele Blanc-Sec
The Good Comic Books Podcast #2
Interview | Judge Dredd Creator John Wagner On
Review | The Adventures of Tintin
News | The Avengers Trailer
News | 3rd International Tintin Trailer
News | Green Lantern Blu-Ray/DVD Release Details
Review | The Extraordinary Adventures of Adele Blanc-Sec