To mark the release of Action Comics #1 this week, I thought I'd reminisce over Grant Morrison's last outing with the man of steel, All Star Superman. The Last Son of Krypton has forever been an icon of the medium and yet the comics themselves have never really hit the heights they could.
He's a much more difficult character to handle because unlike someone like Batman (billionaire playboy by day, brooding one-man-army by night) he isn't cool. He's a big blue boy scout and proud of it, but unfortunately for him, since Han Solo came around all the kids want to be Wolverine, not Cyclops. So what can you do? The solution most writers and artists found was to emphasize his god-like power. This meant gigantic alien fistfights and virtually no character development. Yes they've killed him, brought him back to life and turned him electric blue, but have we seen these creators truly push the limits of the man of tomorrow? Has anyone tapped his true potential? I didn't think so until I read All Star Superman.
The series doesn't really run along a singular narrative (something that the recent animated adaptation suffered from trying to force) but sufficient to say it features a super powered Lois Lane, an encounter with Black Kryptonite, an interview with an imprisoned Lex Luthor, an excursion to Bizarro World, an altercation with Kryptonian explorers and a sun eater among other things. The scale of the series is at once epic and intimate and it succeeds in crossing many subgenres within the realm of science fiction. Presumably taking his lead from Alan Moore, Morrison is hugely respectful of the character's rich history and revels in the opportunity to turn many of the sillier or 'goofy' ideas from the Silver Age into some brilliantly cool components.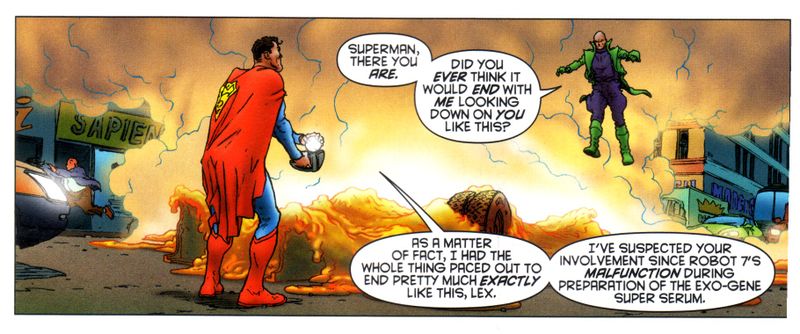 This is helped in no small part by the outstanding artwork of Frank Quitely whose style transcends decades of mythology to capture the essence of the character. His depiction of Superman perfectly encapsulates his power and humility; tall, broad and a little bit clumsy. Unlike Bill of Kill Bill fame, I don't think that Clark Kent is Superman's critique of the human race. To me they are one in the same sharing strengths and insecurities. Quitely finds the overlap and brings it out for all to see. Together this artist and writer have found the vulnerability in a seemingly indestructible character and proceed to strip him bare with each new adventure.
In the ninth issue, Superman describes himself as 'a scientist's son. It's in my nature to observe and learn…' This is a quality in the character that helps to anchor the tone of the series. It's a celebration of life, the universe and everything. He is not humanity's resident strong man, more a scatterbrained genius with one hundred plates spinning at once. He is an inspiration, a symbol of human potential. This comic put a fresh spin on an already iconic character and in my opinion it is the greatest Superman story ever told. I highly recommend it to everyone.
Joe Read.