It suits Serge Gainsbourg well that director Joann Sfar chooses not to just follow the usual plodding linier line of events that create the narrative structure of most musical biopics, but opts to instead make his debut directorial feature as unique, eccentric and unusual as the man it is inspired by. Gainsbourg: A Heroic Life is an ambitious film; as Sfar attempts to blur the line between myth and fact and reality and imagination, and in doing so creates a well-formed portrait of the man behind an icon.
Sfar strings together a fractured narrative drawn from important and influential moments from Gainsbourg's life, using the women and relationships in his life as tent poles upon which the rest of the film hangs (You may notice on the poster Gainsbourg is framed by his two great loves, Bridgett Bardot and Jane Birkin). Sfar skilfully paints Gainsbourg at times both boastful and full of confidence but also manages to give the character a hidden shyness and shows an internal conflict between his natural urges and artistic desire. Sfar ingeniously does this by creating a physical representation off Gainsbourg's own mind, which follows him throughout the film, changing its appearance reflecting the protagonist's emotional state. Genius.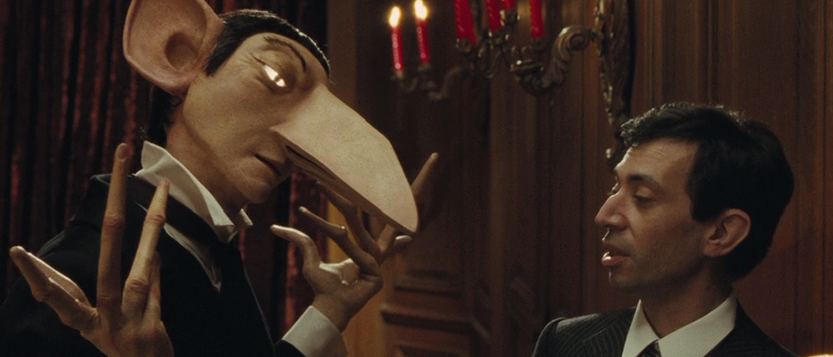 As a child hiding from Nazi's in the French countryside (Gainsbourg was Jewish) he is followed by a huge round figure twice his size and at least three times his width, impossible not to see! As an adult a stick thin Ghoul with large ears and a long nose advises and, well quite frankly berates him into decisions. Doug Jones playing the Ghoul almost wraps his thin body around Gainsbourg's and exaggerates his movements for full creepiness! Sfar draws upon his own graphic novel (which served as the source text for the screenplay) and blurs the line between reality and imagination, having characters talk to both Gainsbourg and the Ghoul at once, its mind-boggling!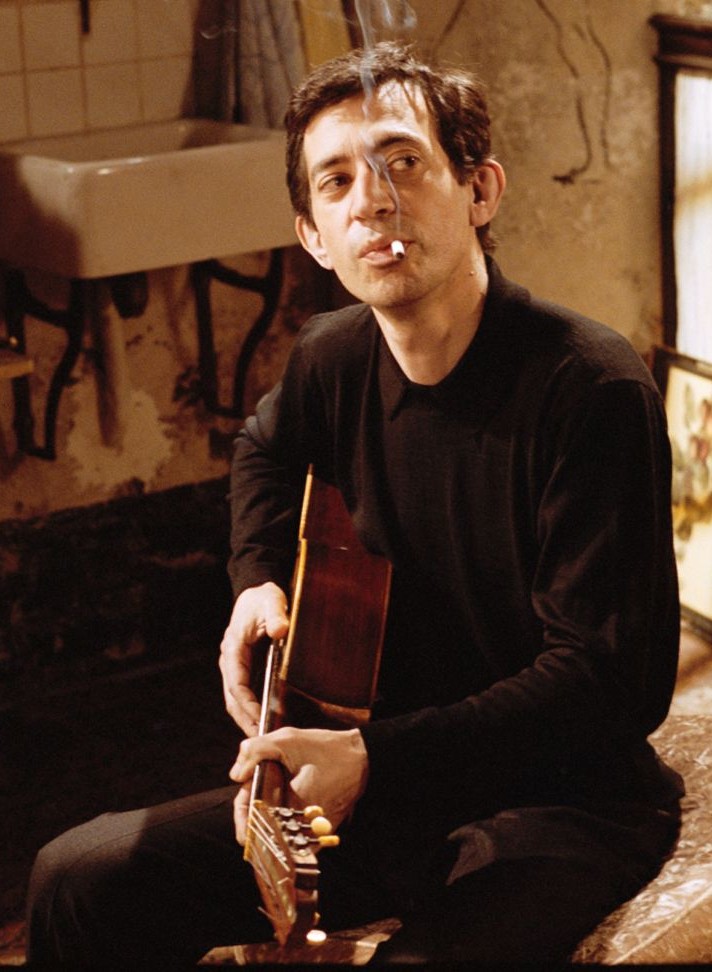 The is a great film to look at; the particularly fine lighting and camera work perfectly compliment the production design, I can't think of a single frame that wouldn't look beautiful as a framed photograph. Of course Gainsbourg was a musician and Sfar is obviously a big fan of his music, often when a song plays the film stops dead in its tracks and just admires the musicianship. Eric Elmosnino gives one of those 'throw yourself completely in' performances as Gainsbourg; apart from closely resembling the musician, his performance is incredibly well judged, a scene in a police van after his Father's death is particularly fine.
As I am writing this review I am listening to the best of Serge Gainsbourg, which I bought within about 10 mins of finishing the film. Sfar's direction is impressive for a debut feature and I feel his cinematic career may be one to watch, the leap from comic book artist/writer to film director has proven tricky in the past (hello Frank Miller!) but he has managed it successfully. Gainsbourg: A Heroic Life paints both paints a vivid portrait of the French legend, and at the same time is loads of fun.
Gainsbourg: A Heroic Life currently has a limited North American Release, and is available on DVD elsewhere.
Will Pond.
The Good Comic Books Podcast #5
Review | The Extraordinary Adventures of Adele Blanc-Sec
The Good Comic Books Podcast #2
Interview | Judge Dredd Creator John Wagner On
Review | The Adventures of Tintin
News | The Avengers Trailer
News | 3rd International Tintin Trailer
News | Green Lantern Blu-Ray/DVD Release Details
Review | The Extraordinary Adventures of Adele Blanc-Sec