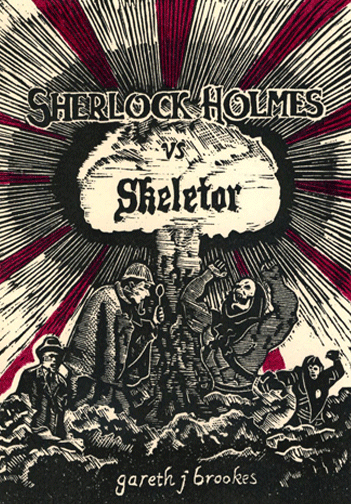 If you ever wondered how Sherlock Holmes and Skeletor would get on if they were ever introduced, the answer is apparently… not very well. In this hilarious comic by Gareth J Brookes, we're shown what happens when you piss through Sherlock Holmes's letterbox.
Before I picked this thing up, I had no idea what was inside, so the surprise of something so irreverent was enough to send me into hysterics, let alone some of the stuff that goes on. Sherlock goes to make some tea so he puts the kettle on and walks away. Skeletor comes in, turns the kettle off. Sherlock comes back to find the kettle off.
Sodding genius.
The characters become a sort of odd couple as they go about trying to get the better of eachother, as if they both have to share the same room at university. One is studious, attentive and a little posh. The other is chaotic, brash and a bully. The set-up, like the art, is so simple that it catches your attention immediately and you'll have to read the entire thing. Admittedly reading all 18 pages of this daftness will only take you five minutes, but you'll spend a massive chunk of time laughing afterwards.
This is a comic that deserves to be on everyone's coffee table, it's such good fun, and the perfect cure to multi issue super-hero epics that leave you scratching your head. I guarantee it'll make you laugh.
Buy it here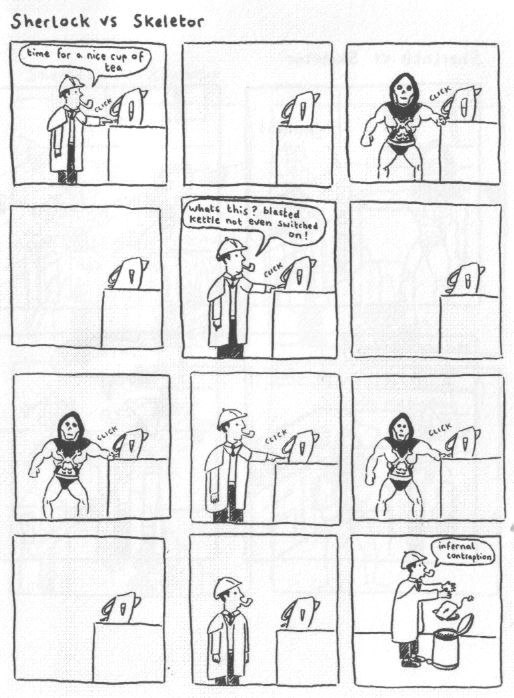 Joe Innes.
Review | Castro – A Graphic Biography
The Good Comic Books Podcast #5
Advanced Review | The League of Extraordinary Gentlemen:
Interview | Marc Ellerby of Chloe Noonan Fame
The Comix Reader #2 Mega-Launch
The Good Comic Books Podcast #4