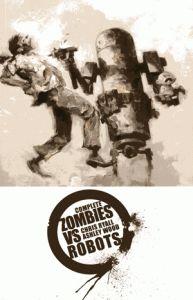 "I like Zombies… but then I like robots! Which is better? There's only one way to find out!" Is probably what you would hear, should Harry Hill peer through his bespectacled tiny little eyes at this beautifully unambiguous title.
The story is fairly unambiguous too; some bickering, cold blooded scientists accidentally bring a zombie plague back from a random point in time after a short excursion through an experimental trans-dimensional portal. Meanwhile another scientist decides to activate his robot collection back just before the zombies arrive.
Brilliant!
Ashley wood deserves huge credit for his artwork on Zombies vs. Robots. It looks nothing short of sensational! The artwork is meticulously messy and festooned with blocky halftone shading. It's constructively messy and the feel for movement and energy is exceptional.
I can't decide whether the storytelling is vague or whether Chris Ryall meant to leave huge chunks of story for the reader's imagination. Either way compliments Zombies Vs Robots as it is written with a beautifully childlike quality. Scattered and broken robots reassemble as reinforcements at the push of a button, zombietaurs (a zombie minotaur stupid!) and reassembling super composite zombies appear to wreak havoc just when you thought things couldn't get any sillier! The baddies keep getting badder as robot Skull Face (Bertie) finds new weapons and comrades to destroy the zombie hordes (Weapons include the worlds entire nuclear arsenal!).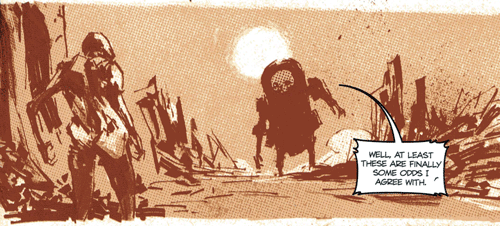 Zombies vs. Robots eventually trips up on its wonderful randomness as Bertie discovers a tribe of Amazon warrior women who have survived both zombie and nuclear apocalypse. There is no reason for the resulting obscene images of an all female fruit smearing "ritual". These border pornographic images (or geek porn*) ruin the whole playful quality of the story and are so unnecessary that they rather paint a perverse picture of the writer. The occasional strong use of obscenities also tarnishes the otherwise innocent quality of writing.
Due to the nature of comics there is very rarely anything to be left to the imagination, perhaps the main reason they are regarded by many as a less intelligent form of literature. Zombies vs. Robots however is rare in that there are details left for your own interpretation allowing you to be lost in your own childish zombie robot wonderland, a zombie robot wonderland that will vary immensely from reader to reader.
Overall my wonderland was highly enjoyable until I was brought to rather sharply by a hard, crass slap in the face with some rather adult themes! However it is a highly entertaining read.
Note to Author: Can we have aliens in the next one please Chris? Thank you.
*Obscene content designed to sell to those less inclined to being caught buying regular indecent periodicals.
Complete Zombies Vs. Robots by Chris Ryall and Ashley Wood.
John Paul De Quay.
Advanced Review | The League of Extraordinary Gentlemen:
Review | Castro – A Graphic Biography
Review | G.I. Joe: Cobra Civil War #1
The Good Comic Books Podcast #5
The Good Comic Books Podcast #4
Review | Rocketeer Adventures #1
Review | Moriarty: The Dark Chamber #1
Review | The Extraordinary Adventures of Adele Blanc-Sec