The Year is… 1938.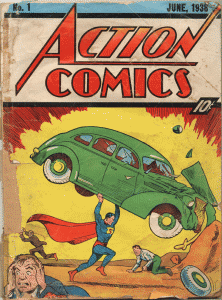 In the immortal words of  Julie Andrews; Let's start at the very beginning (I watched The Sound Of Music today, it gets awesome once the Nazi's get involved doesn't it?). For the first time machine, I'll take a look at the most valuable comic book in the world, the very first appearance of Superman.
Here in the future, armed with hindsight and nostalgia, we'll look at this legend of comics and hold him up to modern scrutiny. Is it good? Did Joe Shuster and Jerry Siegel create the character we know today, or does evolution apply to fictional character biographies too? Find out here (or merely read my opinion).
This is invisible
Here it is…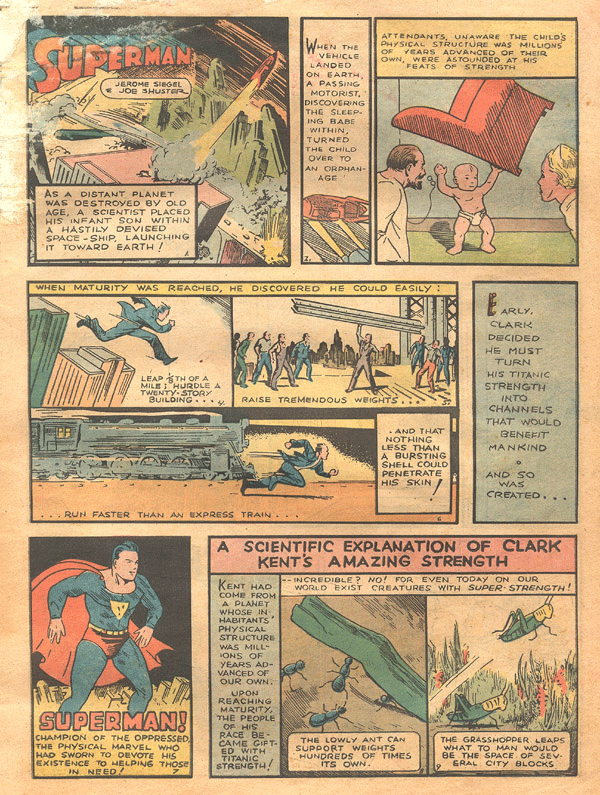 Imagine that! The Superman origin has hardly changed at all, although a child lifting a car is INFINITELY more impressive than a child lifting a chair.
I think it's funny that the Superman we all know and love today is probably less believable than the one found in this first issue, given that I always believed as audiences got more sophisticated then this kind of stuff became more realistic (like say, The Dark Knight).
If Superman could bend the laws of physics and fly rather than merely jump 1/8th of a mile, then that would've been plain silly. But of course, now he gets his powers from our yellow sun, that explains flight perfectly.
The little aside about ants and grasshoppers is great to see too, found again most blatantly in Spiderman, that jerk who has the same relative strength as a spider.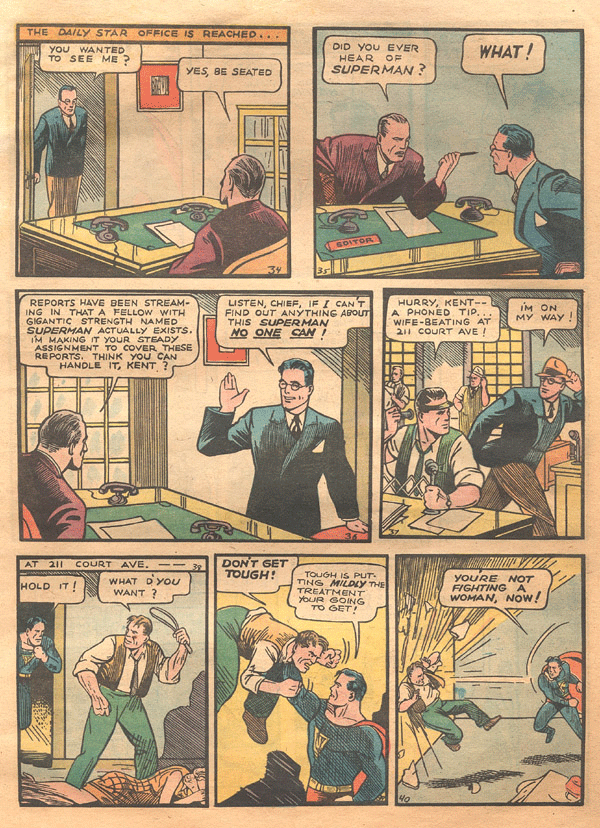 So the whole Clark Kent/Superman act hasn't changed, but the most telling thing is that his first job as a vigilante is breaking up domestic violence. He beats up the perp too. These days, when Superman gets involved with drug abuse or domestic abuse, the people say 'wow, it's so brave and modern how comics are tackling real life problems'.
J Michael Straczynski's current run on Superman reads exactly like this. In Superman #705, the guy restrains himself from killing an abusive husband and father. Nuts, the same thing happened in the very first issue.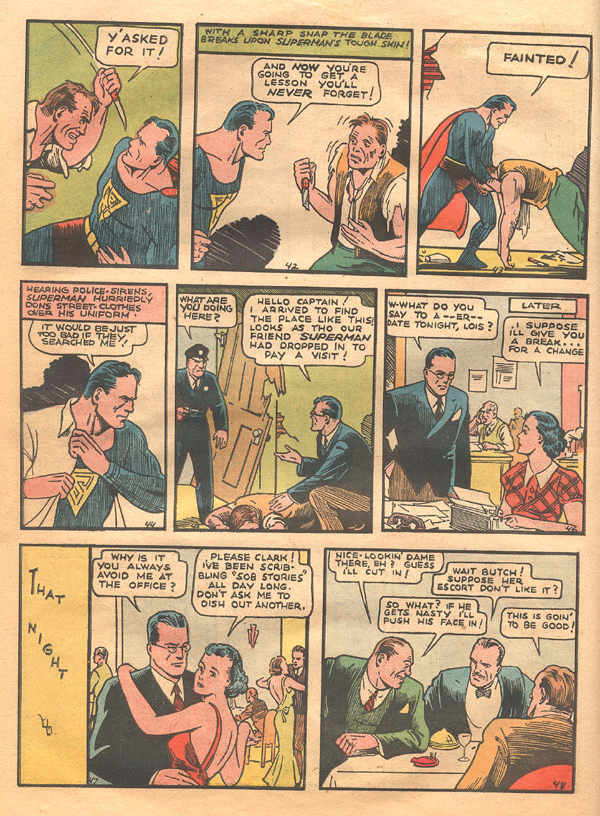 Here, we see a sign of the times. Lois Lane, as a woman, is found working on 'sob-stories'. The Lois Lane I know wouldn't be caught dead working on sob-stories, rather risking her neck trying to break the latest war crime scandal or political cover up. It was probably unheard of for a woman to be anything higher than a secretary in the 30s, so the character we see here is definitely a victim of the era.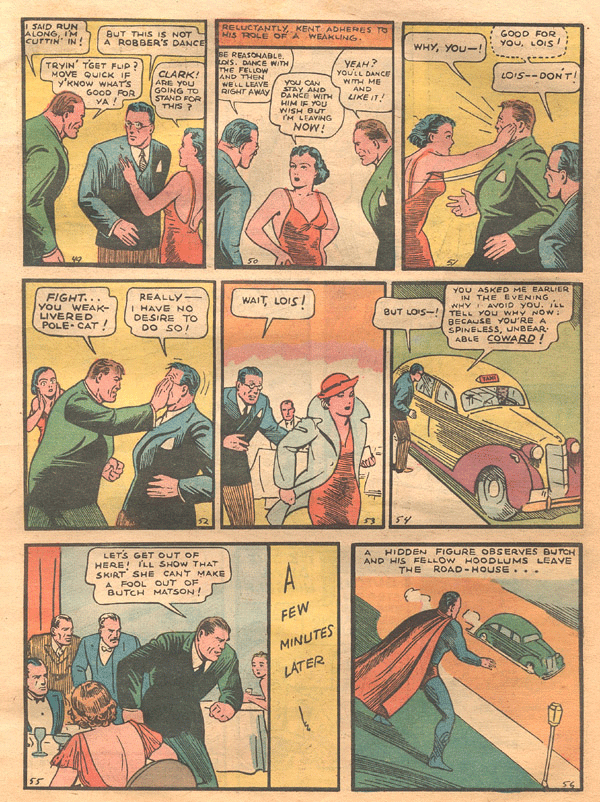 This is great, not only do we start getting a taste for Lois's strong character, but we also see Clark Kent as the 'act'. It's almost impossible to identify Clark Kent as Superman, the glasses aren't the disguise at all. This really reminds me of Grant Morrison's Clark in All Star Superman, a completely spineless caricature of humanity, and it works from the start.
Don't worry about Lois, she definitely gets her own back on Clark, by um, whipping him…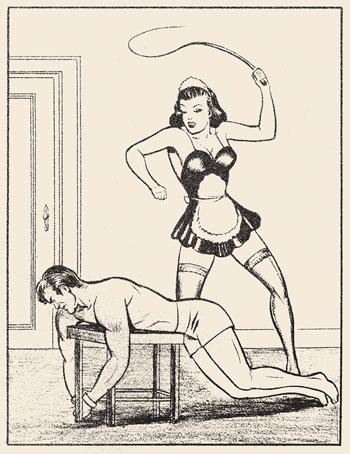 You may not have known this, but Joe Shuster was a perv! Well, upset and down on his luck after losing a battle for his copyright, he began drawing Lois and Clark in 'adult' situations. The pictures were published under the counter in magazines called Nights of Horror, and ultimately banned by the U.S. Senate.
You can find out and see more in: Secret Identity: The Fetish Art of Superman's Co-Creator Joe Shuster.
Invisible
I'll skip the issue ahead a couple couple of pages now…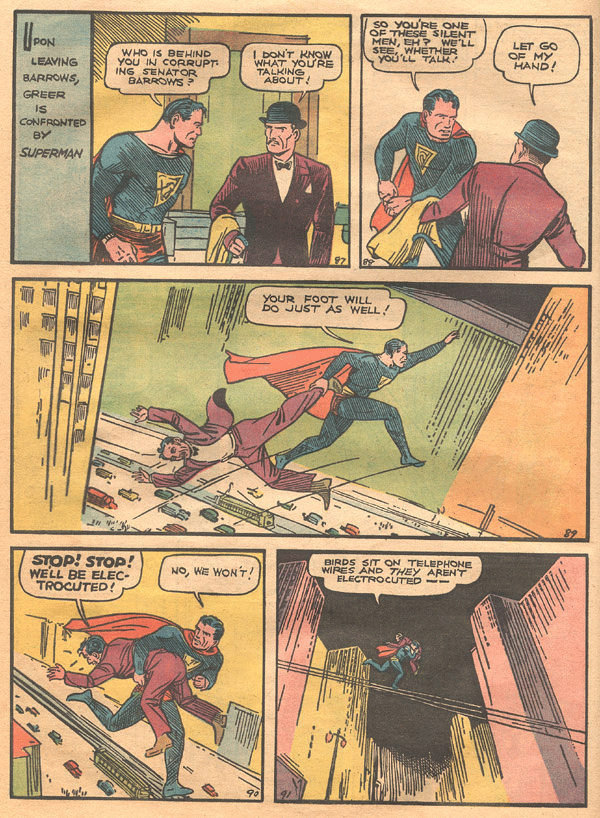 And obviously, Superman breaks up some political conspirators and tortures someone, while giving them a lesson on electricity. Brilliant. Neil Adams' Batman Odyssey had a similar science lesson, a lecture about why a hydrogen car doesn't explode when shot because the tank was composed of a metal hydride. Comic books eh? Fun AND informative.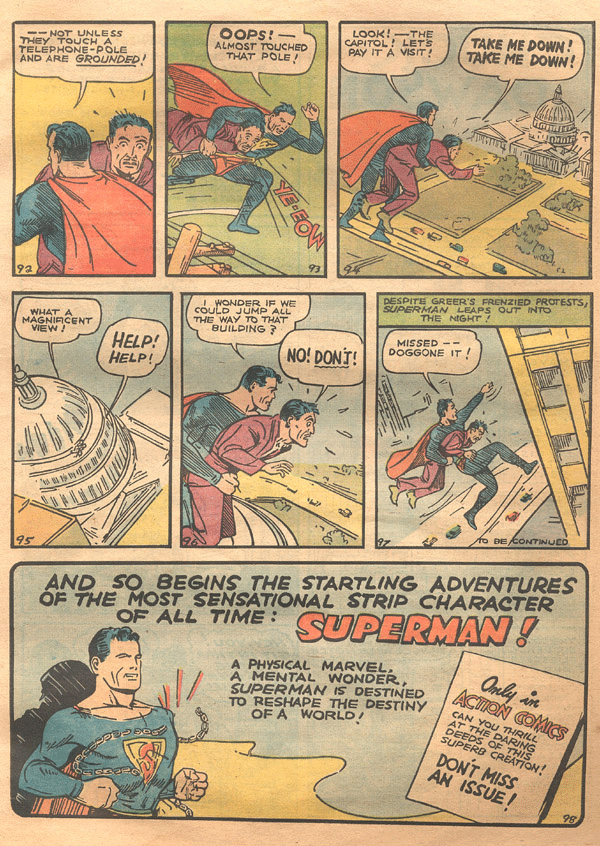 In my opinion there's little difference between Superman then and now, though he's obviously gotten a little more sophisticated. This issue does cement why he's such a great character, and why he's still popular after 73 years. The original super-guy, and probably the most iconic example of the genre. Good Stuff.
Oh, and the paper he works for used to be called The Daily Star. I think they changed it because the actual Daily Star sucks.
Joe Innes.