Joe Innes chooses a more recent Alan Moore moment, and one of the more shocking. The whole sequence isn't shown, but believe me, that's a good thing.
Neonomicon #2
I don't know if you feel the same, but it seems like Alan Moore gets more extreme as time passes. Though it's anything but pleasant, Neonomicon #2 involved a scene towards the issue's end that burned images into my brain that I don't think I'll ever be able to remove. It is one of the most horrific sequences I have ever encountered in any medium and is set up masterfully by Moore to really punch you in the face.

Neonomicon started quite softly in issue 1, the horror was creepy but not too grotesque, it certainly didn't lead me to suspect anything like the events in issue 2. Two FBI agents go undercover in a H.P. Lovecraft sex cult thing, and are led into a basement dungeon that leads to a sewer. Some weird sex stuff starts, one of the agents is shot and then EVERYTHING GOES TO HELL.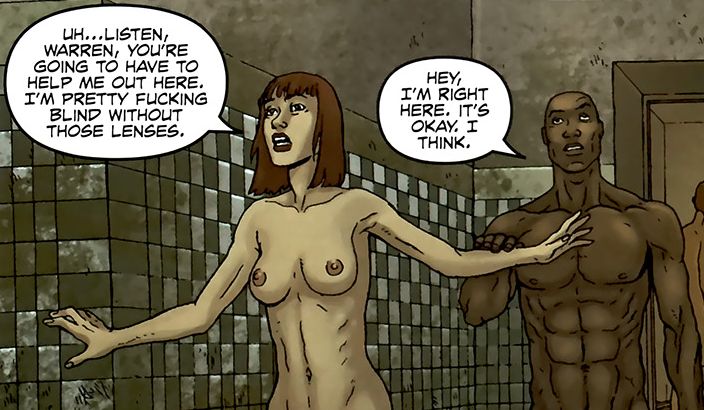 The art and the writing are so matter-of-fact that it makes the horror of the following events all the more horrific. The main character has eye-sight issues, so some of the frames are in a blurry first person view. This is an incredible tool in showing us an unknown terror, and altogether it has the effect of making you want to burn the issue after reading it. Even though it nearly made me sick, the fact that I had such a reaction to it shows how well crafted it is as a horror piece.

Come back next week for more Alan Moore stuff!

Watchmen gets a mention... It was bound to happen.
I WANT TO READ THIS

What's YOUR favourite Alan Moore moment?
I WANT TO READ THIS