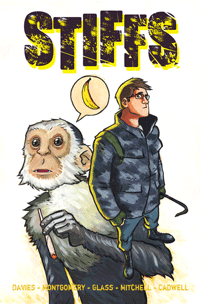 Continuing the report on all the cool stuff present at the Cardiff International Comics Expo, is a review of Stiffs; a comic about beating the undead to a bloody pulp with a crow bar and a wise cracking monkey. I don't know about you, but I reckon most things would be improved by a talking monkey… Neighbours, The X-Factor, Time Team, everything.
It reminds me of that episode of the Simpsons where Homer tries to pitch a movie to Ron Howard with a talking pie "What, are you crazy? It's a buddy picture… You can't lose the pie! The pie's your heart." It might seem like there's a lot of zombie stuff out there and this is just adding to it, but zombies are really just a platform to tell any number of stories, and Stiffs has its own great style. I think the monkey's the heart.
invisible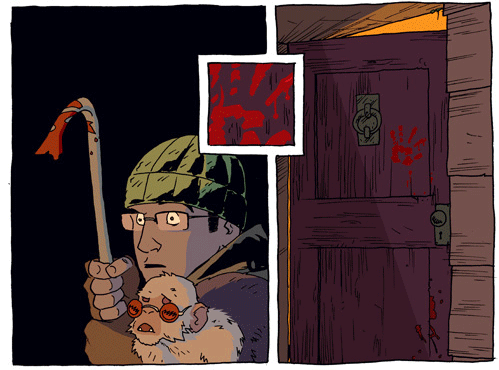 Stiffs follows zombie hunter Don Daniels and his talking monkey, Kenny McMonkey. They hunt zombies together with a straight guy/funny guy dynamic, basically the classic double act (Morecambe and Wise, Marx Bros, Sooty and Sweep etc). It makes for an extremely entertaining read, I just wonder if this is a world where talking monkeys are common place or this particular monkey just got bitten by a radioactive guy.
Stiffs is great at banter, the conversation reads as if it was recorded down the pub. One of the strengths is that it includes a very typical friendship group, with the term 'Stiffs' not only referencing the undead, but also the fact that the group are all 'working stiffs'. Beyond this short preview it's clear that they'll be joining Don and his monkey to kill zombies in the future, so I can't wait to read more of these characters and how it'll balance with their day jobs…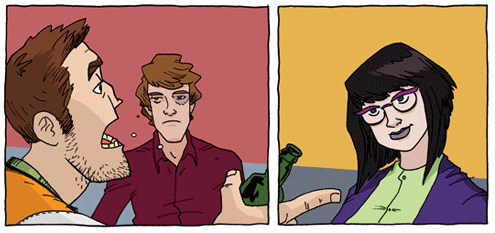 Stiffs is just another example of the fantastic work that is being created by the UK comics scene, and the artwork and colouring by Gavin Mitchell and Adam Cadwell shows that there's no lack of talent there. I'm extremely excited about the future of UK comics and advise you to keep an eye on Stiffs.
Buy the preview HERE and keep up to date from their FACEBOOK page. Support your local comics.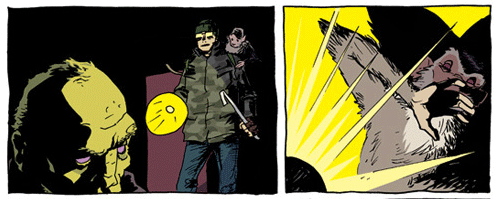 Stiffs, written by Joe Glass, Patrick Montgomery and Drew Davies. Artwork by Gavin Mitchell. Colouring and lettering by Adam Cadwell.
Joe Innes.
Review | Castro – A Graphic Biography
The Good Comic Books Podcast #5
Review: Sherlock Holmes Vs Skeletor
Advanced Review | The League of Extraordinary Gentlemen:
Interview | Marc Ellerby of Chloe Noonan Fame
The Comix Reader #2 Mega-Launch
The Good Comic Books Podcast #4