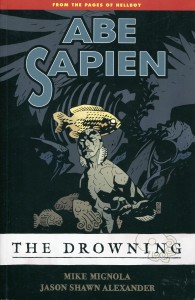 "Hellboy has been gone more than a year, we have no idea when he will be coming back, and it is not fair to keep Mister Sapien prisoner here until he does. He is not a pet, Gentlemen…He is a man."
And so begins Abe Sapien's first outing alone…
The Private diary of Sir Edward Grey, British occult detective and special agent of Queen Victoria comes to the attention of the B.P.R.D. It brings to light the whereabouts of a mysterious Lipu dagger, forged by Hindu monks in 300 BC at the command of a statue of the Goddess Durga, Ten were forged, one for each of Durga's arms, forged for the purpose of destroying Demons.
The specific dagger in question was used by Sir Edward Grey to drive through the chest of a powerful Dutch Warlock called Vrooman, before the boat they were on sunk off the coast of France near the isolated island of Saint-Sébastien. Abe Sapien is simply sent to recover the Lipu dagger and Vroomans' remains.
Simple? Would Sir Edward Grey have relinquished such a rare and powerful weapon to the bottom of the sea had Vrooman been a pushover? Of Course not!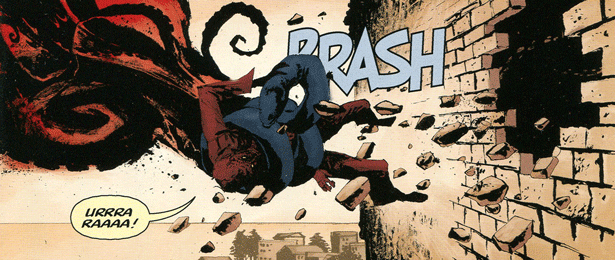 The resulting story is action packed and exciting yet manages to retain the slow-moving chill and suspense of a good old fashioned ghost story. The Edgar Allen Poe-esque sense of prevailing doom is thick in the air. You read as a helpless spectator to the evil threat Abe Sapien faces as he is guided by the ghost of a witch, who in life was charged with guarding the body of Vrooman. In death she helplessly relies on Abe Sapien as a puppet of her will.
Mike Mignolas writing reaches new highs in THE DROWNING. The haunting story explores Abe Sapien's emotional fragility as a rookie agent and his guilt at the death of fellow agents and common fisherfolk alike. THE DROWNING is a stand alone graphic novel in it's own right but it is also a cunning bridge between the Hellboy and B.P.R.D. series, reinforcing hints as to Abe Sapien's Origins (see B.P.R.D. plague of frogs). It also beautifully introduces us to Sir Edward Grey (from the Witchfinder series).

Jason Shawn Alexander's artwork sets this story aside from the rest of the Hellboy universe, it is a style a mile apart from Mike Mignola's in all but the extreme use of contrast. It is more the work of a classical artist and breaks with conventional comic book norms. Alexander paints a picture with the ink rather than ink a picture. The result adds to the nightmarish feeling of woe in Mignola's writing. I am horribly sceptical of artists other than Mignola drawing for the Hellboy universe, as i love Mignola's style so much. However Alexander's artwork lends a different mood and blends with Mignola's storytelling to lead it in a new previously unexplored direction. It works… beautifully!
THE DROWNING is one of the best Hellboy universe stories i have read so far.
John Paul de Quay.

Interview | Duncan Fegredo on Hellboy: The Fury
The Good Comic Books Podcast #2
Review | The Adventures of Tintin
Review | Captain America: The First Avenger
Advanced Review | The League of Extraordinary Gentlemen:
Death of Spiderman | Part 14