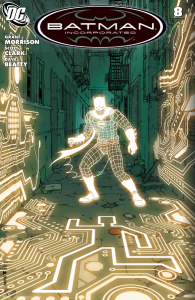 When I was younger so much younger than today, 3D CGI cartoons were all the rage, or at least they were trying to be. Educational programs like Reboot, Beast Wars and The Real Adventures of Johnny Quest taught me and other children to love and fear technology in equal measure. With those lessons in mind the latest issue of Batman Inc felt decidedly retro.
The art is the driving force behind this adventure, dizzying and dazzling while keeping the reader fixed in another world. In fact I sometimes felt overwhelmed by some of the visual effects and distracted from a fairly simple story. If I have a problem it's that this installment felt like Batman Inc just showing off another weapon in their arsenal.
By #6, Grant Morrison had convinced me that the operation was fully established and expanding by the second. I was impressed. But one of the biggest appeals of Morrison's Batman has been watching the risks he is willing to take with the character. With no real challenge or depth a series can become as formulaic as a 3D CGI cartoon. However this is all very unlikely given the journey we've been on to get here.

I believe in Grant Morrison. You can't argue with someone who writes villainous dialogue like, 'Die, Batman! Die, Batman! Die, Batman! Die!' Overall this was an enjoyable escapade, if a little light. It was fun to see Barbara and Bruce fighting side by side again and the reference to the return of an old flame was a great note to pause the series on. I might not be buzzing over the new 52 but this title will keep me coming back for many months to come.
Joe Read.