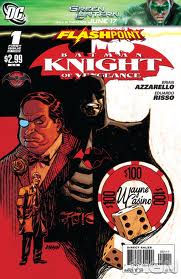 The Flashpoint tie-ins have started in full force this week with 4 issues, as well as the main Flashpoint #2, and Batman: Knight of Vengeance was the pick of the bunch with a rating of… Awesome sauce. It's been a good few weeks now, so if you didn't know Bruce's dad was Batman in this series then shame on you, and you deserve to have it spoiled for you. Yes, Thomas Wayne is wearing the cape and cowl, and he's incredibly old, very jaded and awfully tired.
Brian Azzarello is writing an incredibly well thought out spin on the Batman character, which is somehow incredibly subtle and monumentally different all at the same time. In normal DC continuity, Bruce Wayne fights a dark, never-ending (some would say losing) battle against crime in a bright(ish) wider world. Thomas Wayne seems to be winning his battle against crime in Gotham but within a dark and twisted wider world, I thought that was awesome.
It all comes down to the character I guess, Thomas Wayne is not only a darker version of Batman, he's genuinely miserable. He's doing whatever's necessary to get the job done, and he doesn't brood for hours on the morality of killing a criminal, who are particularly creepier than usual…

The art helps set the twisted tone, Eduardo Risso brings a Mignola-esque flavour to Gotham that really drenches the whole issue in misery, the use of greens and huge blocks of shadow help. There's one incredibly visceral fight scene where you can feel every ache and pain in Batman's body, who doesn't run and jump about, and certainly doesn't know 127 major styles of combat. He does know how to win though, and that means fighting dirty.
This issue is an incredibly disconcerting thing of beauty, and it lures me further into this temporary new world DC have created just like Alice… Because I have a friend called Alice, and she told me she was really enjoying the Flashpoint tie-ins.
Joe Innes.