In May, IDW Publishing reissued the classic; The Rocketeer, now available in one volume. The first issue is now available as a Hundred Penny Press taster, they also launched The Rocketeer Adventures, a brand new instalment of the saga! Gee Whizz! (or whatever the 1940′s equivalent was in America).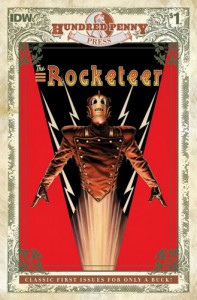 Hundred Penny Press: The Rocketeer #1
Cliff Secord is a man! Cliff Secord with a stolen, military, experimental rocket strapped to his back, wearing nothing but breeches, a leather jacket and a tin hat for protection make him definitely… more manly than most men! Cliff Secord is The Rocketeer!
When Cliff became a potential human firework in order to impress his equally explosive girlfriend Betty, he inadvertently attracted military attention from both America and Germany in the lead up to the Americans joining WWII. The Hundred Penny Press "Classic first issues for a buck!" presents the first few stories in the saga and is a perfect introduction to The Rocketeer! Dave Stevens who sadly died in 2008 was a rare genius in his attention to detail in his flawless artwork.
Even though it was produced in the 1980′s, the artwork and dialogue instantly transports you back to 1938 (if you remember it first time round). The re-issued Rocketeer has been recoloured by Laura Martin, I don't know what the original colouring was like but the new stuff fits the style like a pair of lycra shorts! Dave Stevens' Rocketeer is Pretty much the closest thing i can think of to an American Biggles who doesn't own a Spitfire or a Sopworth Camel, or have a friend called Ginger. However he does have a highly dangerous rocket pack, a nice leather jacket and of course….Betty! It's only a pound (or a dollar) so go and buy it now!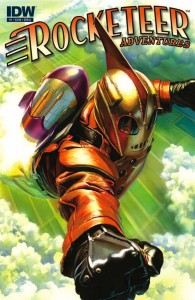 Rocketeer Adventures #1
This new instalment of The Rocketeer presents three gripping short stories by various writers and artists, all of whom recreate the atmosphere of Dave Stevens' Rocketeer perfectly. Each writer concentrates on different aspects of Cliff's life. They range from battling Los Angeles gangsters in an attempt to save Betty who is being held hostage, to Cliffs' problems at home and with his battle to stay on the right side of the Authorities.
The standout story is Dear Betty…by Kurt Busiek. The story is told from Betty's point of view receiving letters from Cliff who is in active service as a pilot against the Japanese in 1944.
His letters at the beginning are long and comforting but slowly become shorter and full of lies to ease Betty's anxiety. But Betty is no fool and knows full well he is secretly being used as the Rocketeer to fight the Japanese. We however see the photos taken in Japan that Betty does not of the Rocketeer fighting war machines and monsters. The letters become fewer and fewer which only adds to Betty's anxiety. The fact you do not actually see any Rocketeer action is cunning as you feel sympathetic towards Betty, who like the reader is kept in the dark. If The Rocketeer Adventures keeps up the pace of this spectacular first issue, and stays as charmingly in character with Dave Stevens' vision as it has done, then this is definitely a comic to keep up with!
John Paul de Quay
Review | G.I. Joe: Cobra Civil War #1
Preview | Rocketeer Adventures #2
Review | The Adventures of Tintin
Review | Captain America: The First Avenger
Advanced Review | The League of Extraordinary Gentlemen:
Death of Spiderman | Part 14