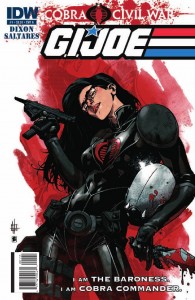 It's always great when someone guides you towards an awesome new comic out of the blue. In between work commitments last week I happened to have a rare 15 min train journey with nothing to do, so I quickly dropped into the local comics store in the area to pick up a quick read. My dilemma was thus, what title would only take 15 minutes to read, include a small amount of back-story and be full of excitement to pick up a boring Wednesday afternoon? The shopkeeper guided me to just one title, G.I. Joe: Cobra Civil War #1… And you know what, I really liked it.
Luckily for me IDW have just started a new major event in their G.I. Joe line, which covers all three of their monthly releases; Cobra Civil War. As the tagline states "Cobra Commander is dead, long live Cobra Commander!" essentially one of the Joes shot the Cobra commander clean through the head, now the organisation is looking to elect a replacement. Obviously noone undertakes a sensible and organised interviewing system looking at each of the contender's individual skills and past experience, oh no not in G.I. Joe… To gain the title of Cobra Commander each of the candidates must prove their worth by inflicting as much pain and destruction on G.I. Joe as possible.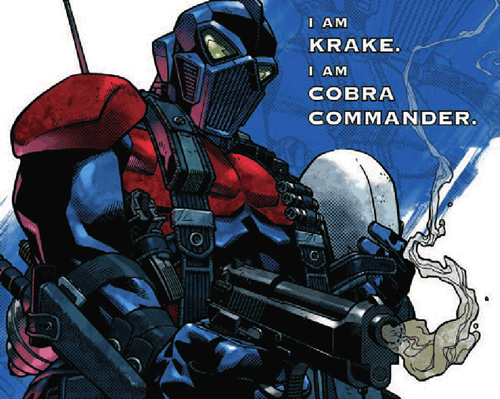 This issue was like watching a good Michael Bay film, with all the same action and cheesy one-liners but without the ear-splitting explosions and crappy acting. Writer Chuck Dixon tries to balance the action along side character development, and whilst this is sometimes overly expositional, it does the job fine, and all the material is interesting enough to keep you reading. Saltares's artwork is clear and pretty simple, his use of the frame is bold and he often opts to let the action play out with the minimum amount of frames within the page, really displaying the characters movements.
G.I. Joe was loads of fun; although the team is quite large (on both sides) the characters are drawn from well-known archetypes so it doesn't take longer than an issue to become fairly familiar with the set up, I managed to pick up and enjoy this issue with the limited knowledge of a) G.I. Joe good b) Cobra bad, and c) Snake Eyes doesn't talk so much. Right I'm going to go and research 3 years worth of G.I. Joe back-story in preparation for the next issue, wish me luck!
Will Pond.
Review | Rocketeer Adventures #1
Review | The Adventures of Tintin
Review | Captain America: The First Avenger
The Good Comic Books Podcast #8
Advanced Review | The League of Extraordinary Gentlemen:
Death of Spiderman | Part 14