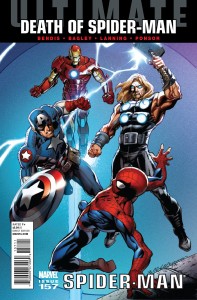 Ultimate Spiderman #157
After checking off eight issues from my Death of Spiderman checklist, the question of when he will die looks like it may soon be answered. It's difficult to think of a character in the Marvel Universe less deserving of death than Spiderman. Except for Howard the Duck. But in the words of Clint Eastwood in Unforgiven, 'Deserves got nothing to do with it.'
This time we join our hero darting around New York trying not to freak out. Meanwhile the Sinister Six (or Ultimate Six?) are struggling to get their act together. It is a fact we've all learned from bad action films that a super villain cannot handle rejection. So it was nice to see that little convention played out between two of Spidey's most notorious villains even if the result felt a little abrupt.
Brian Michael Bendis clearly has big plans for the character from the deft way he keeps the plot racing and emotions flowing in equal measure. A moment between Peter, Aunt May and Gwen is only a couple of pages long but proves very sweet amid the calamity.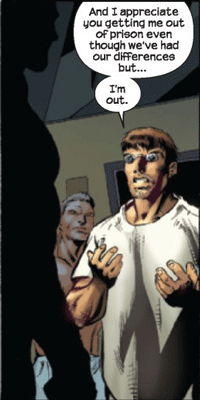 Mark Bagley is on great form once again, easily rising to the challenge of unveiling this big story on a small scale. I will say that his recent depiction of the Green Goblin looks a little rushed compared to his previous work on the character.
Which brings us to the elephant in the room. To avoid spoilers please look away now… It may be undeserved, but you couldn't come up with a way of offing Spiderman that is more befitting to his character. I've observed that superheroes have different techniques; Batman is a detective, Superman is a godlike sentinel, and the Fantastic Four are scientific explorers. Spiderman is a well-meaning teenager. He leaps into the fray with naught but his moral compass to guide him. More often than not it works in his favor. It has nothing to do with ego or bravado but an innocent desire to help. If this leads him to his demise then I can appreciate it.
But I may be jumping the gun if you'll pardon the expression. I'm not sure yet if I'm taking the title of the storyline too literally or not literally enough. You may have heard that issue #160 will be sold in a plastic bag. This means there's a big twist coming up and it must be something other than his death. It seems cruel to let a gunshot wound last for three issues.
Joe Read.
Death of Spiderman | Part 12: The End
Death of Spiderman | Part 10
Death of Spiderman | Part 14
Death of Spiderman | Part 13
Death of Spiderman | Part 11
Death of Spiderman | Part 7
Death of Spiderman | Part 6
Death of Spiderman Part 4 | Prelude Concludes
Death of Spiderman Part 3: Prelude Continueth
Death of Spiderman Part 2: The Prelude